TOA 7IN1 - Ultra Premium Exterior Emulsion Paint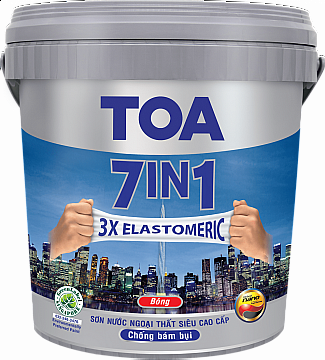 TOA 7IN1 - Ultra premium exterior paint is made from pure acrylic with Hybrid Nano® technology with the high elongation, provides maximum coverage and protects the surface of construction from serve weather conditions. TOA 7in1 has got good performance with 7 items as the following out-standings:
1. Cover hair-line cracks and effectively protect surfaces with 3 times elongation.
2. Good waterproofing, giving ability to prevent water from penetrating into the surface.
3. High scrub resistance.
4. Anti-algae and fungus; does not use lead and mercury.
5. Dirt pick-up and excellent UV resistance, heat reflection.
6. Long lasting color due to good light fastness and alkali resistance.
7. Beautiful high sheen finish.
This product has been certified with the Green Label Singapore.
View DetailCompact
Intended use:
TOA 7in1 is suitable for covering static hair-line cracks lower than 0.1 mm.
TOA 7in1 is applied for new and previously painted exterior masonry surfaces such as concrete, cement, brick,…