PREMIUM PAINT TOA NANO DUO WITH NEW PACKAGING DESIGN
Journey of TOA Nano duo from 2008 - 2022
First launched in 2008, the duo of premium TOA NanoShield exterior and TOA NanoClean interior paint have resonated extremely well when applying Nano technology to products, contributing to effective decoration and best protection for projects in Vietnam.
The 14-year journey of being present in the Vietnamese market is an accurate measure for all efforts to constantly improve and develop products as well as provide the optimal solution in adorning and protecting the building. The TOA Nano product duo is gradually asserting its position in the paint industry, becoming a favorite brand for architectural works, proud of being a high quality and user-friendly paint product.
New versions of TOA NanoShield and TOA NanoClean
This change of packaging design of the duo TOA NanoShield and TOA NanoClean brings a more prominent, impressive and attractive appearance than the previous packaging.
The TOA Nano duo has now put on a "new coat" with blue and green tones as the main colors. The product image is also renewed in a more modern direction with hexagonal blocks on the packaging design symbolizing Nano molecules in series to form a solid protective layer for the paint film surface.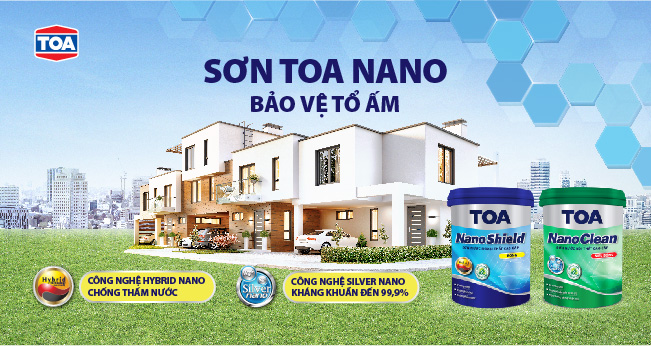 Application of Nano technology in TOA Nano duo
From the first versions, the TOA Nano duo has conquered customers with new technology and breakthrough features. Through many stages of development, the TOA Nano duo has always proved the message "TOA Nano - Technology to protect the home". In addition to changing the new look, the TOA Nano duo also emphasizes the values ​​​​that products always bring to consumers, helping them enjoy life and protect the home of every family with advanced technology.
TOA NanoShield premium exterior paint product line helps the paint film surface to always be the best protected thanks to the application of Hybrid Nano technology - colorfast, waterproof and heat resistant. Accompanying TOA NanoShield, TOA NanoClean premium interior paint brings antibacterial ability up to 99.9% thanks to Silver Nano molecules, making living space safer.
Green paint for green buildings
By striving to meet standards such as: APEO and hormone free, low levels of toxic volatile organic compounds in the air (VOCs); without using carcinogenic heavy metals such as lead, mercury, etc. in the paint formula, the TOA Nano duo is proud to be the product line that has achieved the "green" Green Label certification from the Singapore Environment Council.
With Green Label certification, TOA Nano paint is committed to bringing perfect and sustainable beauty to the project with comprehensive quality products, environmentally friendly and safe for users.
With this campaign to refresh the image of the TOA Nano duo this time, TOA paint always innovates, continuously researches and applies outstanding technologies to improve product quality to meet the tastes and needs of customers. users about a high-quality paint product in the new era.
Information about TOA Nano product duo:
TOA NanoShield premium exterior paint: https://bit.ly/TOANanoShield
TOA NanoClean premium interior paint: https://bit.ly/TOANanoClean