SIMPLE SOLUTIONS YOU NEED TO KNOW ABOUT KEEPING YOUR HOME'S AIR CLEAN
As reported by U.S Environmental Protection Agency (EPA), people, on average, spend approximately 70 percent of their time indoors, where the concentrations of some pollutants are often 2 to 5 times higher than typical outdoor concentrations. That's the reason why there are many homeowners who increase their concern to invest more in living spaces. Improving indoor air quality is one of the most priorities to prevent the negative impact of indoor air quality on human health and well-being nationally.
The indoor air is produced from the daily activities of family members or from household items which containing potentially toxic gases, volatile organic compounds (VOCs), formaldehyde, CO, haze, detergent, … Let's look at several simple solutions to detach the above stuff from your home and create a safer and cleaner living space.
CREATE MORE GREENERY IN HOME
Planting trees is the first and simplest way that most of us usually choose to place in our interior spaces. Trees not only clean the air but also make you feel comfortable with a space filled with green as you come home. The popular houseplants are tiger tongue, bamboo palm, ivy, aloe, … that can grow well in shady spaces and not take much care as well as help reduce up to 90 percent of substances formaldehyde and benzene in our home.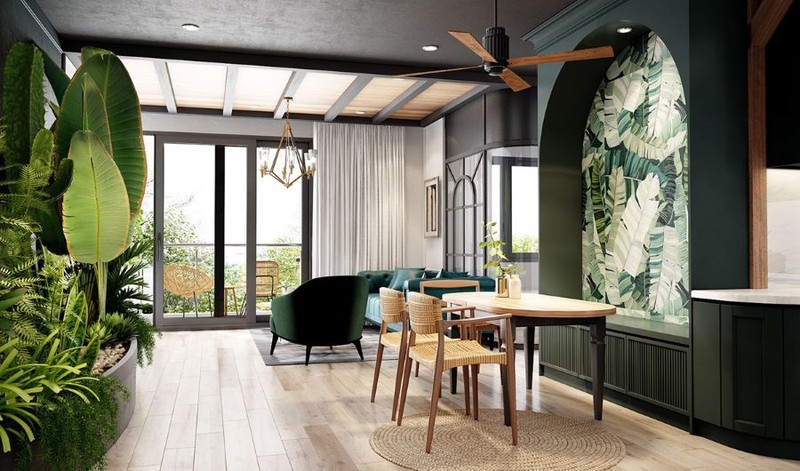 Trees purify the air indoor and create a green highlight for the space
UTILIZE THE AIR PURIFIER
There is a material called activated carbon with superior purifying ability of pollutants in water and even the air, which is used in the devices such as air conditioner, air purifier, kitchen hood. These devices should be put in the areas that accumulate lots of harmful gases such as kitchens, bedrooms, restrooms, etc. In addition, regular maintaining of these devices will help increase their abilities to purify the air more efficiently and cleanly along with limit mold formation in the air cleaner of the machine.
KEEP YOUR HOME WELL VENTILATED
Proper ventilation is one of the home's primary necessities for making it a comfortable living space. It is essential to regularly open doors and windows as well as use fans a few times during the day to replace stale indoor air with fresh outside air. Haze is one of the most severe pollutants especially being harmful to children if there is a smoker in your family's members. If possible, we can prohibit smoking indoors and use an air purifier to remove residual smoke.
USE BUILDING MATERIALS CAPABLES OF PURIFYING FORMALDEHYDE
Homeowners should use construction materials such as paint or wood with clear origin, high quality, and ingredients to help limit the emission of formaldehyde, benzene, VOCs, … in home.
With the desire to keep indoor air quality fresh, TOA Paint Vietnam has focused on effective research and application of Air Detoxify Technology to help SUPERSHIELD DURACLEAN A+ paint membrane can absorb toxic hormones in the air and convert it into steam and clean the air. This product made from pure Acrylic which is produced by the lasted Biomass Balance technology that uses renewable organic materials and help reduce fossil fuel consumption and greenhouse gas emissions, and protect the environment.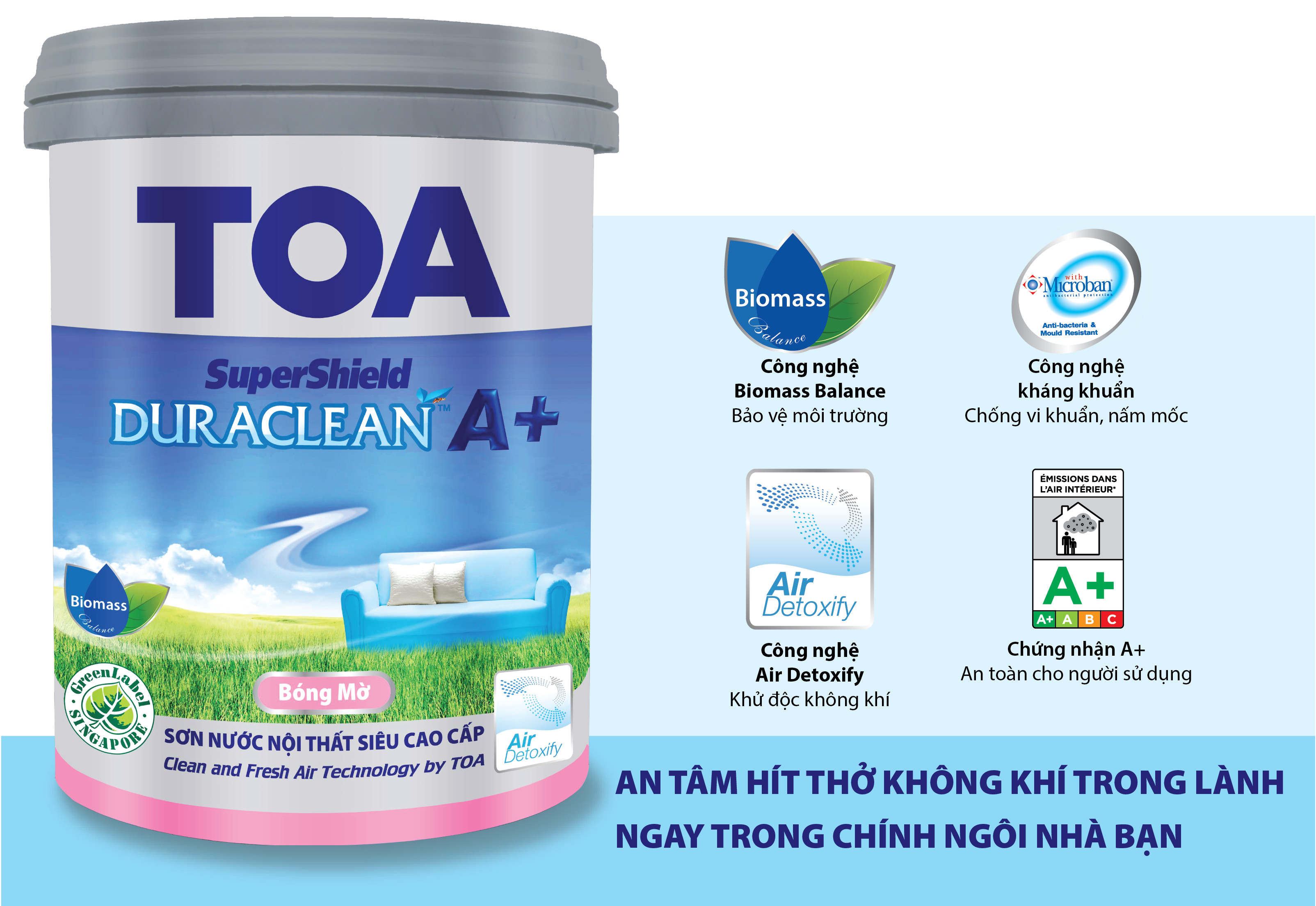 SuperShield DuraClean A+ protects your home
Furthermore, the product also achieves Certificate A for its confirmation of extremely low emissions of volatile organic compounds (VOCs), ensuring the highest safety for users. Along with antibacterial ability throughout the life of the paint membrane which protects people's health issues from infections caused by certain bacteria as well as excellent resistance to mildew.
*Notes:
Air Detoxify Technology: a new technology in TOA paint, which cleans the air, bringing the freshest indoor air quality in comparison with other interior paint products on the market.
A + Certification: for VOC emission concentrations according to French and European regulations at extremely low emissions, highest safety for users.