THE PROGRAM "COLOR OF LOVE 2016 (II)"
On 27/8/2016, TOA Paint Vietnam Co., Ltd (TOA Paint) and Dow Chemical Vietnam LLC organized a CSR (Corporate Social Responsibility) activity "Colors of Love 2016" at Tran Van On Primary School, Tan Hung Thuan Ward, District 12, Ho Chi Minh City. To welcome the new school year 2016-2017, this meaningful program is carried out by TOA Paint and Dow Chemical in collaboration with the Youth Union Ho Chi Minh city (Trung tâm Công tác xã hội Thanh Niên TP.HCM) and Union of district 12.
Mr.Udom Parichartwutthiul – Country Manager of TOA Paint Vietnam give speech to welcome the activity.
With the desire to contribute positively to the community through CSR activities and to accompany the students in remote areas with better studying and playing environment, the program "Colors of Love 2016" has repainted school furniture, school gates and tables for children to have a better environment.
CSR program "Colors of Love 2016" took place the first time at Bui Thi Xuan Primary School (Tan Binh Ward, Di An Town, Binh Duong Province) with a total budget of VND 150 million . And the second time, TOA Paint choosed Tran Van On Primary School, District 12 with painting area ​​about 5,000 m2, painting 200 sets of tables and chairs.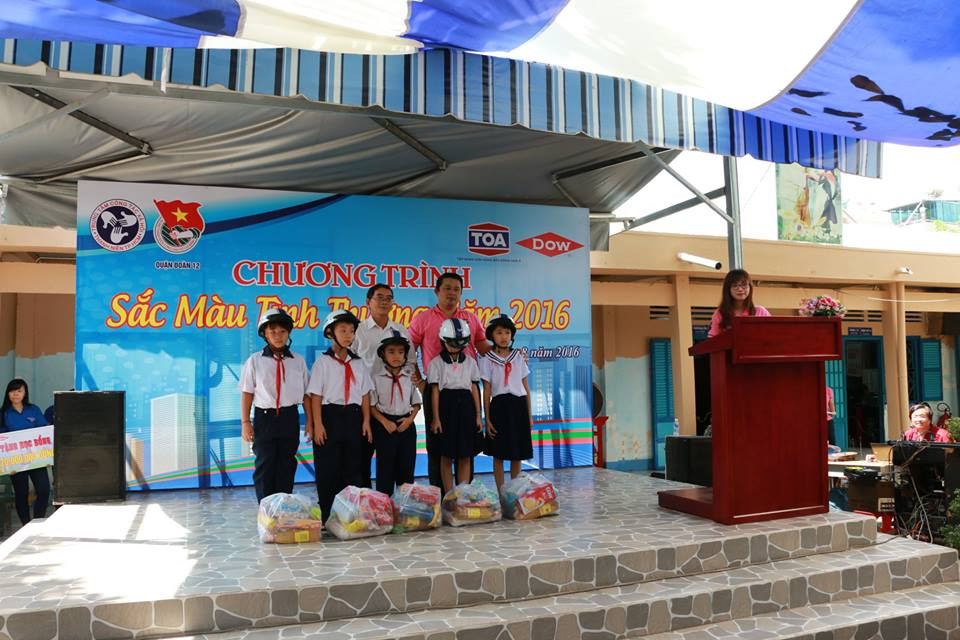 Mr. Udom Parichartwutthikul presents gifts to disadvantaged pupils
This is an important annual event, which clearly demonstrates the social responsibility of TOA Paint Vietnam and Dow Chemical Company in contributing community in Vietnam, with the desire to bring more joy to the community, especially the youth generation.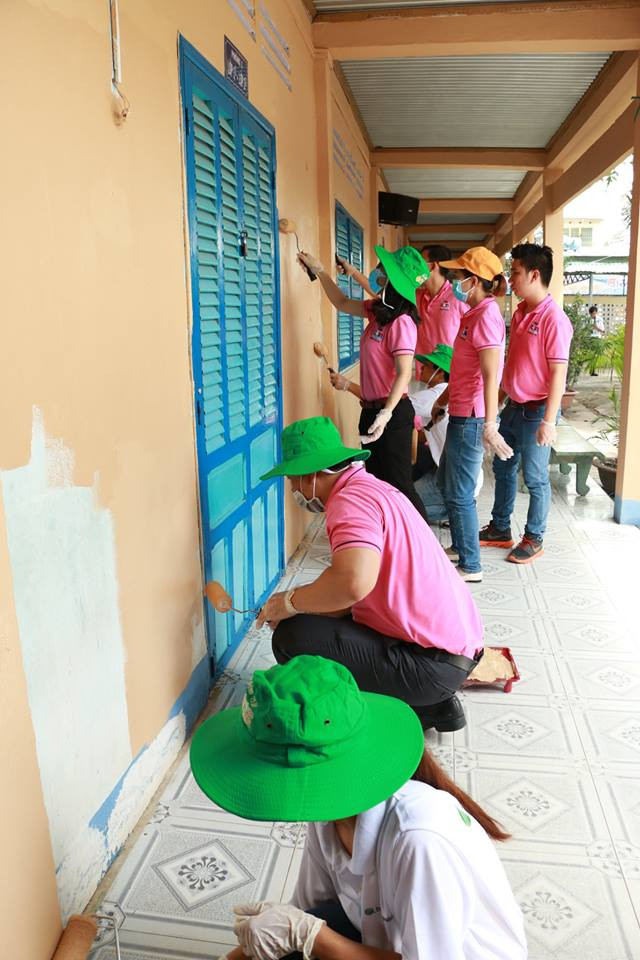 Volunteers fromTOA Paint and Dow Chemical enjoyed the meaningful activity
Mr.UdomParichartwutthikul said: "With TOA GREENOVATION orientation - TOA Vietnam always put the top priority in producing products that must be safe and friendly with the environment, paint is not only a decorative coating on the wall, but also protects the user inside the house, helping consumers have green life. Besides, TOA Paint pays special attention to activities that contribute the community such as accompanying the University of Economics and the University of Architecture in the Green Summer Volunteer Campaign; The National Fund For Vietnamese Children (NFVC). On this occasion, we are pleased to coordinate with the Youth Union Ho Chi Minh City organizes the program "Colors of Love 2016" to renovate schools, helping improve facilities so that pupils have a better studying environment. This is also one of the TOA Paint Vietnam's annual activities which we spend much time and effort."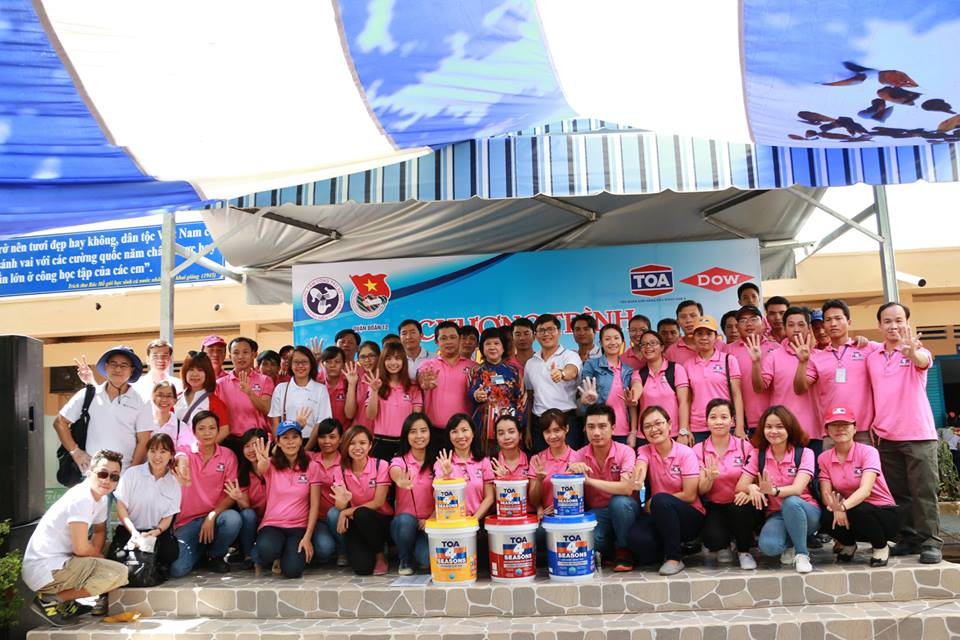 Mr. Nguyen Hoai Son - Head of Foreign Relations Department of Dow Chemical - emphasized: "Dow has been present in Vietnam more than 21 years ago and corporate social responsibility (CSR) programs are an integral part of business and development strategy of Dow Chemical in Vietnam. In particular, Dow Chemical is actively supporting the Vietnamese industry and farmers in addressing a number of major challenges such as clean water demand, sustainable development and the preservation of clean energy and agricultural productivity. Especially, believe that education is the key and the science will bring a sustainable world, along with other CSR activities that Dow has been supporting science education in Vietnam by painting and upgrading schools, donations of IT equipment to universities, books for charity houses, sponsorship of chemistry contests, and the grant of scholarships to deserving students. It will help Vietnamese students develop their talents and further develop Vietnam."