TOA 258 CEMENT MEMBRANE - SPECIALIZED WATERPROOFING FOR THE CONSTRUCTIONS
The waterproofing stage is known as the main item from the beginning of construction. Early waterproofing will prevent leaks and mold growth, thereby protecting the appearance and the structural construction, as well as limiting negative impacts on family members' quality of life. It finds important to pay attention to using reputable and high-quality waterproofing products to the significant waterproofing effects and cost savings on maintenance later.
In 2021, TOA Construction Chemicals from TOA Paint Vietnam has launched TOA 258 Cement Membrane - two-component waterproofing cement-based. Part A is a modified polymer and part B is a mix of powders compound of cement and aggregate which provides a special flexible and durable waterproofing membrane for mortar and concrete substrate to form an elastic coating that offers ultimate waterproofing and protection.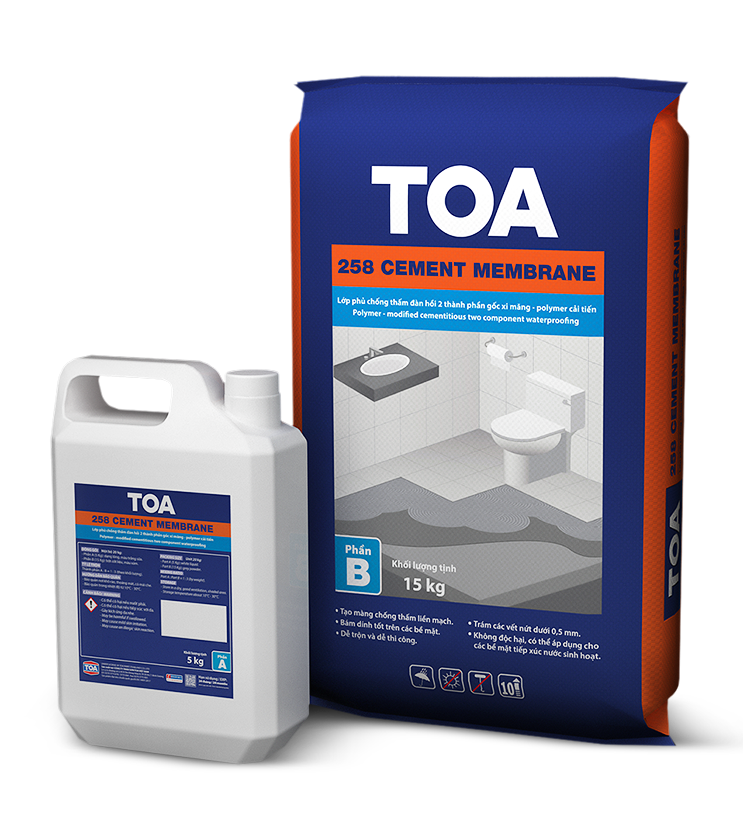 The remarkable features of TOA 258 Cement Membrane can be mentioned as below:
Seamless waterproofing system: part A and part B once mixed together will create a seamless waterproof membrane, no joint helping to maximize the resistance ability of water intrusion which is harmful to the constructions; and reduce maintenance costs later.

Polymer-modified in composition increases good adhesion on many surfaces;

Pre-packaged according to convenient portion for easy mixing and applications;

The elasticity of products has the capability of covering cracks ≤ 0,5mm;

The product is non-toxic, can waterproof residential water surfaces;

Safe for customers' health.
Thanks to these comprehensive features aggregation of TOA 258 Cement Membrane, this product is used to waterproof for mortar, a concrete substrate with topcoat protection:
Internal concrete of residential water tanks, fire water tank, swimming pool, … before ceramic tilling.

Basement, kitchen area, bathroom, balconies, terraces, flat roof, and wet area before ceramic tilling.
TOA 258 Cement Membrane is suitable for new and renovation constructions.

Products are packed in standard Unit 20 Kg (part A: 5 Kg part B: 15 Kg), making them convenient for transportation and storage. Depending on the purpose of usage, as well as the area of construction, customers can choose the most appropriate unit.
APPLICATION GUIDANCE OF TOA 258 CEMENT MEMBRANE:
SURFACE PREPARATION: The mortar and concrete surfaces must be cleaned, ensuring no dust dirt, oil, grease, old coatings, curing agents, or other impurities on the substrate surface. Absorbent surfaces must be completely saturated by freshwater before application.
MIXING: Mix with a mixer at low speed 300 – 500 rpm. Put ¾ part A in a clean pail, add part B slowly, and mix at least 3 minutes to get a lump-free homogenous mix. Add part A remainder and mix until homogenous.
APPLICATION:
Using trowel, brush, roller, sprayer, apply a layer of mixed mortar onto the treated surface, which has been cleaned as well as saturated with clean water. Allow drying for 3 – 6 hours before applying the next coat.

When applying on a horizontal surface, it is recommended to apply the next coating after 24 hours to ensure that the application process does not affect the former layer.

Allow drying completely for at least 7 days before putting it into use.
Although construction is used qualified mortar and emulsion paint, it finds difficult to avoid the effects of the environment after a long time of use. Therefore, the waterproofing stage should not be passed to keep the concrete substrate from being patchy, extend the life of constructions and prevent mold growth, which affects the health of the family members.
You will own a durable and aesthetic house with TOA 258 Cement Membrane.