TOA HYDRO QUICK PRIMER - PREMIUM MULTIPURPOSE PRIMER - COMPREHENSIVE CONSTRUCTION PROTECTIVE SOLUTION
As one of the major brands in providing comprehensive construction protection coatings solutions, TOA Paint recognizes the impacts of climate and weather which are directly affecting the wall surface of Vietnamese houses, thereby researching and bringing a completely new premium multipurpose primer - TOA Hydro Quick Primer. The product possesses outstanding features, is perfectly suited for all constructions, and has excellent support for smooth and flawless coatings. Whether it's new or old walls, interior or exterior, TOA Hydro Quick Primer plays an extremely important role, not only contributing to the protection of the wall surface but also adding aesthetics to the house.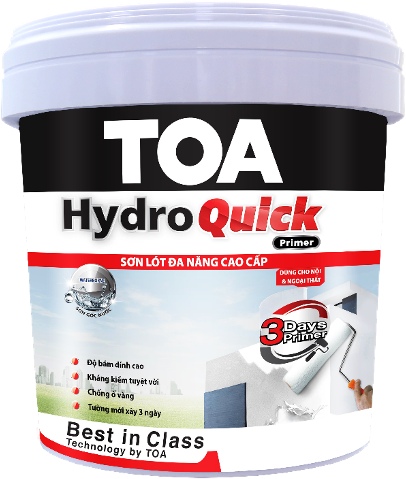 TOA Hydro Quick Primer is a special primer made from styrene-acrylic that has not added lead, mercury in the formula.
TOA Hydro Quick Primer is specially designed for new masonry surfaces dry after 3 days in normal condition; or old surface, chalking, or poor adhesion surfaces where is attacked by alkali, water, and efflorescence help improve alkali and water resistance ability for wall surfaces both indoors and outdoors. Therefore, when painting a house or any other construction should not neglect this primer.
Other superb features:
Excellent adhesion: the product assists to increase the adhesion and durability of the coating.

Effective alkali and efflorescence resistance: Alkalinity is the cause of breaking down the structure of the paint, such as peeling, salting, or spot, making the paint film to be chalked, dissected, and moldy. Hence, with optimal alkali resistance and salt spill, TOA Hydro Quick Primer has the ability to prevent and overcome defects of the wall surface due to the impact of alkali.

Yellowed surface by alkali: TOA Hydro Quick prevent alkali attack to top coat surface making it is yellowed; especially with old surface.

The product can be used for both exterior and interior walls.
In addition to the above excellent features, compliance with the application guide especially applying primer is also very important, helping get a beautiful and durable home. Let's take a look at the fast and time-saving painting TOA Hydro Quick Primer process below, bringing the aesthetics and quality of your work.
APPLICATION GUIDE OF TOA HYDRO QUICK PRIMER
Step 1 – Surface preparation:
New surface:
The surface is dry after 3 days, the substrate moisture is lower than 30% and pH is lower than 11 (specialized measuring testing equipment).

Remove all dust, grease, wax, laitance, chalking, and others contamination from the surface by specialized machine and proper cleanness.
Old surface:
Remove all dust, fungus, algae, loose old paint, or other contamination from the surface by specialized machines as grinding, sanding, vacuum cleaner, high-pressure water jet, and proper cleanness.

Then, treat the areas attacked by fungus, algae with proper chemicals. Wash the surface if required, let it fully dry, the substrate moisture must be lower than 30% (specialized measuring testing equipment).

The damaged areas, cracks must be repaired and made smooth by proper materials.
Step 2 – Primer: Apply 1 coat of TOA Hydro Quick Primer.
Step 3 - Topcoat: Apply 2 coats of TOA interior or exterior.
TOA Hydro Quick Primer is the perfect solution for all works and a vital step in the painting work procedure to improve the surface quality of the construction, keep the ideal long-term and durable coatings, bringing a beautiful home as you like.
Discover new product here: https://www.toagroup.com.vn/en/san-pham-chi-tiet/son-lot-da-nang-cao-cap-toa-hydro-quick-primer