TOA 4 SEASONS LAUNCHES NEW PACKAGING DESIGN WITH OUTSTANDING FEATURES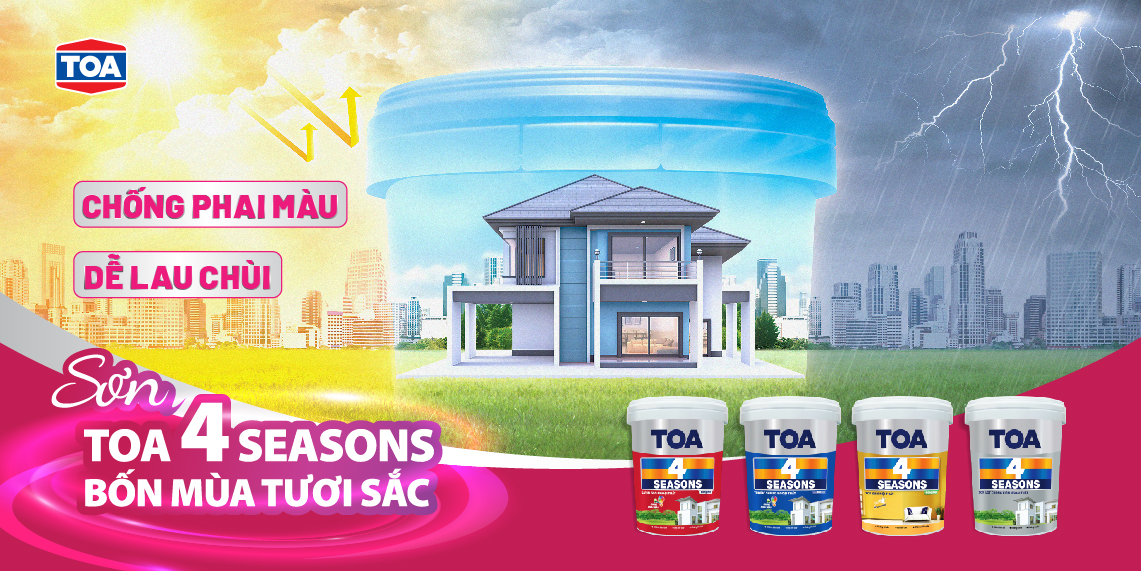 TOA Paint Vietnam introduces a new look for TOA 4 Seasons with 2 outstanding features: Anti-fading & Easy to clean to better meet the demand of protecting the home and the owner's health.
Outstanding features Easy to clean make it easy to wipe off common stains and dust; hence, after cleaning the paint film still does not scratch or peel. Moreover, TOA 4 Seasons Top Silk Interior has a special structure that helps the paint film to always be smooth, with the same height, antibacterial and anti-mold ability, giving you peace of mind to protect your family's health.
Anti-fading feature from TOA 4 Seasons Exterior Paint Satin Glo & Tropic Shield is a plus point for the product line, our home will always be assured with the wall being able to withstand the harsh effects of the weather thanks to the paint film. with high durability, UV resistance, water resistance and good alkali resistance... In addition, 3M Fluorosurfactants anti-dust additive helps the paint film to be bright and beautiful over time.​
The product line is certified Green Label of Singapore, does not contain APEO & formaldehyde, low VOCs content, does not contain carcinogenic heavy metals such as lead, mercury, chromium,... in the paint formula, environmentally friendly and safe for health.​
TOA 4 Seasons paint is the optimal solution to keep your beloved home FRESHLY COLORFUL ALL YEAR ROUND. Please contact the nearest TOA paint dealer for advice and choose the right paint color. Find out more TOA 4 Seasons products here:​​
Appeared in the Vietnamese market for many years, TOA 4 Seasons has developed constantly and is proud to be a multi-functional interior and exterior paint line and is increasingly popular with Vietnamese families. Understanding the tropical monsoon climate often makes the house susceptible to fading, dust, moss, mold, as well as the concerns of homeowners about common stains from daily activities. TOA Paint Vietnam always brings consumers quality products, suitable for Vietnam's weather conditions.